PhD Retreat Instructions
---
Welcome to the virtual version of the PhD Retreat of Bio- and Pharmazentrum.
We are going to meet on the Airmeet virtual meeting platform (individual links are shared per email). The whole meeting will take place on this platform, directly in your browser. We invite you to see this as an exciting opportunity to try something new, a challenge to tried-and-trusted ways of how a scientific meeting runs, a place to enjoy interesting conversations and scientific discussions – and to understand that some things may not go exactly as planned.
Tips for a good start:
Sign up early and take a few moments to fill out your "Attendee Card". This makes you much more recognizable to the other participants.
Check the official program on the main page and be sure to join the plenary sessions on time. To join a session, go to the "Sessions" tab. In a session, only speakers and hosts can use their microphone and share their screen. Ask your questions by using the "Q&A" tab or vote existing questions so that moderators can select questions of general interest.
Open the "People → Attendees" tab on the right-hand side of the screen to see the other participants and to meet up with someone specifically. If you want to meet up with someone randomly, try our the "Speed-Networking" feature!
You will have to share your screen during your poster presentation or talk: make sure in advance that screen sharing works.
If you need additional help, check the guides below:
The Airmeet platform also has a large knowledge base: https://help.airmeet.com/
---
How can I display a PowerPoint show without using full screen?
This is particularly useful if you might want to see the presentation and the webinar interface simultaneously. Please note: To display your presenter notes, you will need a two monitor set up.
Select "Set up Slide Show" on the "Slide Show" tab.

2. Select the radio option, "Browsed by an individual (window)". Select "OK" to confirm your changes.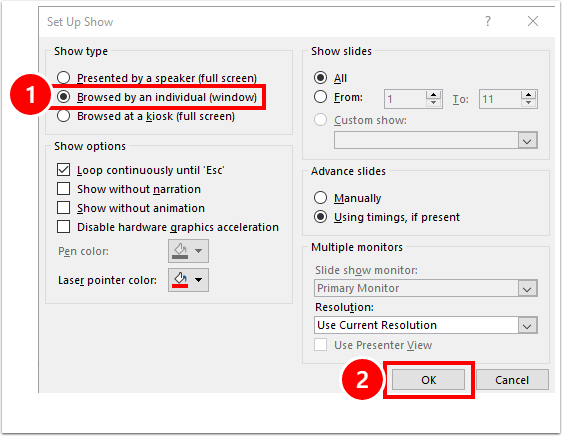 3. Start your PowerPoint show (as per normal).
---